US Coast Guard Auxiliary 5th Dist SR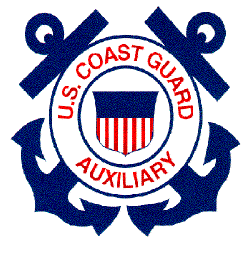 The U.S. Coast Guard Auxiliary is a volunteer, civilian, non-military arm of the U.S. Coast Guard. It serves the general public through boating-safety classes, vessel safety checks, and safety patrols on the water and in the air. Members of the Auxiliary have no law-enforcement powers and issue no permits or citations. However, we do work closely with law enforcement to ensure the safety of the boating public.
In 1939 Congress created the United States Coast Guard Auxiliary to serve as the civilian, non-military component of the Coast Guard. Today, over 27,000 volunteer men and women of the Auxiliary are active on the waterways and classrooms in over 2,000 cities and towns across the nation. Each year, Auxiliarist (people just like you) save almost 500 lives, assist some 15,000 boaters in distress, conduct more than 150,000 courtesy safety examinations of recreational vessels, and teach over 500,000 students in boating and water safety courses. The results of these efforts save taxpayers hundreds of millions of dollars every year.
The USCG Auxiliary for the 5 th District Southern Region supports the boating public and the United States Coast Guard in Maryland, Virginia and North Carolina and Washington D.C..