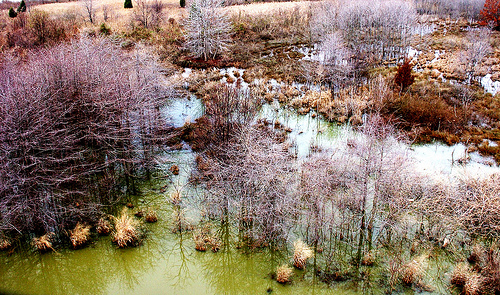 Greenbury Point, a 231 acre peninsula at the mouth of the Severn River, provides numerous opportunities to integrate wildlife habitat and education with the training mission of the Naval Academy. Outdoor education planners from the Service's Blackwater National Wildlife Refuge are lending their expertise to help shape the Visitor's Center Environmental Education facility the Navy is currently building on Greenbury Point. Nineteen osprey pairs that currently nest on Greenbury Point's radio towers will be provided new platforms before the towers are demolished in the coming year.
Greenbury Point has a variety of habitats including wooded coves, shallow wetland ponds, forests and scrub/shrub areas. Many interesting wildlife make this area their home. For example, Greenbury Point supports the only bobwhite quail population in Anne Arundel County.
Greenbury Point is the home to the Naval Academy Gold Club, the Naval Academy Primary School, and the former
NSS Annapolis
. Much of the point is now a nature preserve with trails.