Maryland Federation of Art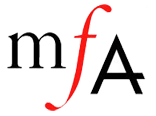 The Maryland Federation of Art (MFA) is a nonprofit membership organization of artists and art patrons. MFA's mission is to provide exhibit and professional development opportunities for artists and to provide arts education and outreach opportunities for all Maryland citizens. The MFA was established in 1963 by US Navy Commander Charles Holley, Mrs. Margaret Farmer, and a group of dedicated Annapolis-area artists interested in developing professional exhibit opportunities for Maryland's creative community. As a result of their dedication, the Circle Gallery was founded in Annapolis, Maryland, and continues more than 45 years later as the oldest operating artist gallery in Maryland.
The MFA focuses on encouraging emerging and under-represented artists and strives to meet the developing needs of all artists, at all career stages. In addition to its member-only artist shows, the MFA also hosts solo and small group exhibits and sponsors regional and national competitions, inviting artists from across the US to submit works for consideration. These exhibits provide Maryland audiences and the many national and international visitors to the Annapolis-based Circle Gallery with the opportunity to view original work from every region of the country and to expand on their understanding of art.
The MFA's community outreach over the years has included partnerships with local government agencies and nonprofits to provide at-risk youth, learning-disabled adults and many others in the community with art experiences.
---