Arundel Vocal Arts Society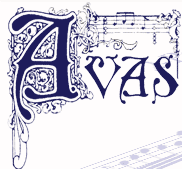 The Arundel Vocal Arts Society (AVAS) is a community based, non-profit choral group dedicated to the performance of varied, mixed voice music for the benefit, education and enjoyment of its members and the surrounding communities.
AVAS has been providing outstanding performances of diverse choral music since 1983. We pride ourselves in the diversity of our programming, from classical masterworks, operetta, pops, folk music, lighter favorites and Broadway.
The chorus presents an annual series of at least two concerts and supports the creative environment of our community by collaborating with other local musical groups. AVAS membership is open to adults 18 and older. It is the intent of the chorus membership to reflect the cultural diversity of the community it serves.