Anne Arundel Genealogical Society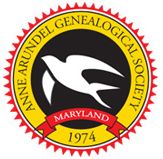 The Anne Arundel Genealogical Society has been helping the people of Anne Arundel County and Maryland learn more about their ancestors and heritage since 1974. An extensive collection of genealogical reference material is housed at the Kuethe Library in Glen Burnie, Maryland and is open to the public for a small fee (free to members).
Meetings are held 7:30 PM on the first Thursday of every month at the Severna Park United Methodist Church, 731 Benfield Road, Severna Park, Maryland. Engaging speakers address topics which have included Irish research, Photoshop Basics, Maryland Land Records, and Revolutionary War Ancestors, to name a few.
The mission of the Society is to promote genealogical and family history research in Anne Arundel County; help our members learn about genealogy and apply that knowledge to their family history research; research, compile, and publish genealogical records and related information; and host and participate in meetings, seminars, and events to raise the public interest in AAGS and genealogy.
AAGS has collected information on more than 500 cemeteries and burial sites throughout Anne Arundel County. Information for 146 cemeteries is currently online.